2K Marin is an American video game developer based in Novato, California. The studio's main focus, according to press releases, is to develop new intellectual property and co-develop products with other 2K studios.
The Novato studio was spun off from Irrational Games (briefly known as 2K Boston/2K Australia) in November of 2007, after the release of BioShock. It was initially formed by a group of eight experienced game developers. The new team included several previous members of Irrational Games who worked on BioShock. These are Executive Producer Alyssa Finley, Creative Director Jordan Thomas (designer of the Fort Frolic level), Lead Programmer Carlos Cuello, and Lead Artist Hogarth de la Plante.[1]
The Canberra studio 2K Australia, which was originally part of Irrational Games, joined 2K Marin in 2010, upon the announcement of its new XCOM game.[2] However, in late 2011, 2K Australia separated from 2K Marin once again.[3]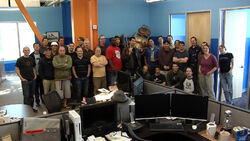 References
Edit
↑ 1.0 1.1 "Meet the teams bringing BioShock to PS3 (plus new screens!)" article at PlayStation.blog
↑ Plunkett, Luke (2010-04-16). 2K Studio Name Madness Continues With New XCOM Game. Kotaku Australia. Retrieved on 2010-04-28.
↑ "2K Australia is 2K Australia again and is working on BioShock Infinite, Levine confirms" article by Christopher Grant at Joystiq.com
↑ Futter, Mike (2013-04-26). The Bureau: XCOM Declassified Detailed and Described. Game Informer. Retrieved on 2013-05-20.
Community content is available under
CC-BY-SA
unless otherwise noted.