For the Locations in BioShock 2 Multiplayer, see BioShock 2 Multiplayer Locations.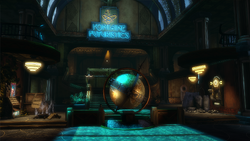 Over the course of the game, the player will travel through many locations in Rapture, each one with its own unique theme and appearance. Here is the list of the locations in BioShock 2 and its downloadable contents, The Protector Trials and Minerva's Den:
Minerva's Den - Rapture's high-technology center and home to the administrative offices of Rapture Central Computing, the company running automations around the city, McClendon Robotics, a manufacturer of new automated products, and the Air-Tite Archives, a storage facility for people's personal belongings through pneumo delivery.
Operations - The main working area of Rapture Central Computing within Minerva's Den. Featuring the System Programming wing, the Climate Control for The Thinker, and a machine graveyard on the sea floor nearby.
The Thinker - The computer core of The Thinker, Rapture Central Computing's supercomputer running most of the city's automated systems.
The diminutives for the levels' names as used in files are, in BioShock 2:

Prelude-2 (for Adonis Luxury Resort; Prelude refers to a cut level)
WelcomeBack (for Atlantic Express Depot)
Education (for Ryan Amusements)
Ghetto (for Pauper's Drop)
Redlight (for Siren Alley)
Gallery (for Dionysus Park)
Abyss (for Fontaine Futuristics)
Eden (for Outer Persephone; includes the textures seen by Little Sisters)
Gulag (for Inner Persephone)

In The Protector Trials:

PreludePool (for The Adonis Baths)
WelcomeBackMaintenance (for Atlantic Express Train Upkeep)
GhettoMarket (for Pauper's Drop Market)
RedlightChurch (for Simon Wales' Church)
GalleryCarousel (for Folly of Dionysus)
Eden_CellBlock (for Persephone Cell Block F)

In Minerva's Den:

Minerva_A (for the Minerva's Den level)
Minerva_B (for Operations)
Minerva_C (for The Thinker level)
Community content is available under
CC-BY-SA
unless otherwise noted.