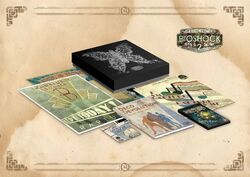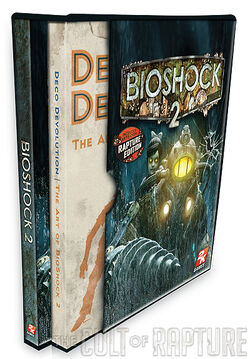 Available for pre-order and retail sale, 2K Games released the BioShock 2 Special Edition as a sequel followup to the BioShock Limited Collector's Edition. While the special edition was only available in North America (and later New Zealand), Europe and Australia had their own special edition of the game, called the BioShock 2 Rapture Edition.
Contents
[
]
Unboxing Video
[
]
As part of a promotion for the Special Edition, 2K Games recorded an unboxing video.
Behind the Scenes
[
]
All three of the propaganda posters has hidden Rapture Family messages on them, only visible under Ultraviolet (UV) light.

Andrew Ryan poster: "The end of RYAN is the end of the SELF".
Best and Brightest poster: "WHERE IS DR. LAMB??" and a circle on the empty space between the characters and a hand mark.
Rapture poster: "Rapture FAILED WE WILL NOT".