Roblox: DeepWoken - The Loop
Play Sound
For the orchestral score composed by Garry Schyman, see BioShock Infinite Original Soundtrack.
BioShock Infinite features an eclectic licensed soundtrack. It can be divided into three sections:
Songs from around the time period of the game's setting in 1912, including music from the bluegrass and gospel genres. Some of which are slightly anachronistic, being recorded in the 1920s, and 1930s.[1]
Modern recordings of period songs.
Music that has been arranged to fit in with the era while anachronistic to the time period.
Background
[
]
Like the licensed soundtrack for both BioShock and BioShock 2, many songs in the game's soundtrack are typical of its time period or earlier. However, some are technically anachronistic due to the game's setting being in 1912. In an interview, Ken Levine stated that it was difficult to "find music from that era that sounds great to a modern ear" as modern chord progressions had not yet developed.[1] Thus some of the songs listed here should be taken as representative rather than strictly adhering to the setting ranging from early Edison cylinders from 1909 to folk recordings from 1967.
Other songs are modern recordings of actual period songs. Duncan Watt (Fastestmanintheworld Media) played the piano [2] for Scott Joplin's piano compositions.
Jessy Carolina was invited to perform "After You've Gone", "Fortunate Son", and Mozart's "Lacrimosa". "Wild Prairie Rose" is an original song written by Jessy Carolina and performed by her band Ommie Wise.[3]
Creative director Ken Levine and music director Jim Bonney debated over the concept of "modern songs, but in a period style". The largest problem posed was finding people who could arrange in a period style and honor the intent of the songs. Rock songs were slightly easier as they could be traced back to their roots in blues such as Creedence Clearwater Revival's "Fortunate Son".[4]
Looking for a song for the Barbershop Quartet proved tricky as many choices required "a modern percussion sound" that did not transfer well to vocal harmonies. The Beach Boys' "God Only Knows" was one that thrived in the transition and was inspired from the ending scene in the 1997 film Boogie Nights.[5] Arrangement was done by Clay Hine, baritone, and sung by a Mighty Wind.[6][7]
Scott Bradlee, creator of the Post Modern Jukebox series on YouTube, was invited to contribute arrangements for the anachronistic songs. He commented that "[u]nlike some of my YouTube videos, this had to be done in an extremely subtle way".[8] He played piano on all his rearrangements: "Tainted Love", "Shiny Happy People", and "After You've Gone". Bradlee also recorded "Everybody Wants to Rule the World" while singing with his "best 1912 voice".
In order to lend authentic credence to these modern recordings, Audio Director Patrick Balthrop used a "1912 Edison gramophone" to add Foley, background pops, and crackles.[9]
Religious controversy erupted after the premiere of the BioShock Infinite trailer at the 2011 Video Game Awards regarding the cover of the hymn "Will the Circle Be Unbroken" and its apparent removal of "Lord" from the chorus. [10] The confusion arose from the popular Carter family version of the song released in 1935 which featured rewritten lyrics.[11] However, the original 1908 lyrics does not feature the word "Lord".
Two Nico Vega songs were used in various BioShock Infinite trailers. The "Beast of America" trailer featured a new remix of the acoustic and studio versions of Nico Vega's "Beast".[12] The "Lamb of Columbia" and "False Shepherd" trailers feature various pieces of production music licensed from Extreme Music.
Licensed Songs
[
]
Note: As stated above, some of the songs listed here should be taken as representative rather than strictly adhering to the setting of 1912.
‡The official credits page incorrectly cites the 1948 Dan Barnes recording. The 1959 Ed Lewis recording of the song is the one actually used in the game.
Contemporary Covers
[
]
Modern Covers of Period Songs
[
]
Title
Original Composer
Year Composed
Performer
Location
"After You've Gone" *
Henry Creamer (lyrics)
Turner Layton (composer)
1918
Jessy Carolina (vocals)
Scott Bradlee (piano)
Sean Condron (guitar)
[32][13][8]
"Solace"
Scott Joplin
1909
Duncan Watt (piano)[32]
"The Easy Winners"
Scott Joplin
1901
Duncan Watt (piano)[32]
"The Strenuous Life"
Scott Joplin

(Composer)

1902
Duncan Watt (piano)[32]
"Sunflower Slow Drag"
Scott Joplin

Scott Hayden

(Composers)

1901
Duncan Watt (piano)[32]
"Bridal Chorus"
Richard Wagner
1850
Unknown

Performed at the Raffle when getting the first prize

"Air on the G String"
August Wilhelmj
Unknown (late 1800s)
Unknown

On a phonograph at the aviary atop the Fraternal Order of the Raven

"Will the Circle Be Unbroken" (Choir)
Ada R. Habershon (lyrics)
Charles H. Gabriel (composer)
1907
Marc Lacuesta (arrangement)
Maureen Murphy (soloist)[32]
"Agnus Dei"†
Wolfgang Amadeus Mozart
1791
Unknown
"Confutatis"†
Wolfgang Amadeus Mozart
1791
Unknown
"Lacrimosa"†

Wolfgang Amadeus Mozart
1791
Unknown (orchestral and wobbly versions),
Jessy Carolina (Lady Comstock singing version)[33]
"Rex Tremendae"†

Wolfgang Amadeus Mozart
1791
Unknown
"Goodnight, Irene"
Hudder "Lead Belly" Ledbetter (composer/lyricist)[32][13]
1932
Jim Bonney (performance/arrangement), Bill Lobley (main speaker)
"Just a Closer Walk with Thee"
Unknown, The Selah Jubilee Singers (first known recording)
Unknown, first recorded version in 1941
Courtnee Draper (vocals), James Edwards (piano)[32]
"Nocturne in E-flat major, Op. 9, No. 2"
Frederic Chopin
1832
Duncan Watt (piano)[32]
"Canon in D Major"
Johann Pachelbel
1694
Jim Bonney (piano)[32]

At the projector room on the second floor of Comstock House

"Will the Circle Be Unbroken" (Elizabeth and Booker)
Ada R. Habershon (lyrics), Charles H. Gabriel (composer)[34]
1907
Courtnee Draper (vocals), Troy Baker (guitar)[32]
"Valse Sentimentale No. 1"
Franz Schubert
1823
Duncan Watt (piano)[32]

Entrance to Emporia at Port Prosperity, played by the player piano at which Rosalind Lutece is seated
* Marion Harris is credited for first performing the song in 1918. However the game references the arrangement performed by Bessie Smith in 1927.[13]
†Part of Mozart's Requièm Mass in D minor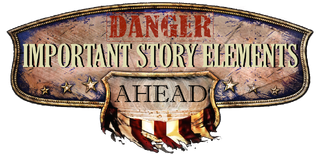 Anachronistic Covers of Modern Songs
[
]
Several songs heard in Columbia are period-sounding "covers" of modern hits.
Some of the original versions of these songs can also be heard through Tears which allowed[35] composer Albert Fink to plagiarize and create his immensely popular (but unoriginal) melodies.
†Also available to unlock in The Columbian Archeological Society (Clash in the Clouds)
Additional Music
[
]
†Licensed by the production music company "Extreme Music".
See Also
[
]
References
[
]