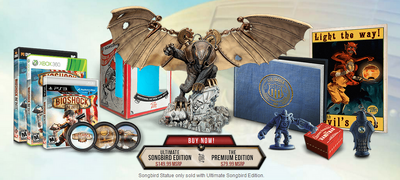 The BioShock Infinite Premium/Ultimate Songbird Editions are special editions of BioShock Infinite available for the PC, Xbox 360, and PS3. They were announced by the official BioShock Infinite website on October 18, 2012.
BioShock Infinite
Premium Edition
BioShock Infinite
Ultimate Songbird
Edition
Price
$59.99[1] SRP[2]
$79.99[1] SRP
$149.99[1] SRP
Game Disc and Manual
Yes
Yes
Yes
The Art of
BioShock Infinite Artbook
No
Yes
Yes
BioShock Infinite:
The Siege of Columbia
Handyman Figure
No
Yes
Yes
Devil's Kiss
Vigor Lithograph
No
Yes
Yes
Murder of Crows
Keychain
No
Yes
Yes
BioShock Infinite
Digital Soundtrack
No
Yes
Yes
Three Exclusive
Gear power-ups
No
Yes
Yes
(Xbox 360) Booker and
Elizabeth Avatar
Costumes
No
Yes
Yes
(PC and PS3) BioShock
Infinite Themes
No
Yes
Yes
Songbird Statue
No
No
Yes
Both Editions include:
Ultimate Songbird Edition Exclusive:
A 9 1/2" Songbird statue in custom packaging
Community content is available under
CC-BY-SA
unless otherwise noted.