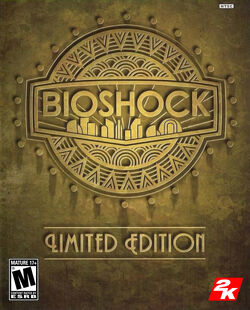 History
[
]
On March 29, 2007, publisher 2K Games responded to a fan-created petition for a special edition of BioShock, stating that if the petition received 5,000 signatures, they would publish a BioShock Limited Collector's Edition of the game. Five hours later, the number was met, and more than 14,000 had signed by the following day.
Soon after the petition reached its requirement, a poll on the Cult of Rapture website[1] was posted where visitors could vote on what they would most like to see in a special edition, and the developers would take this poll into serious consideration with their final verdict.
Contents
[
]
| | | |
| --- | --- | --- |
| Game Disc and Manual | Yes | Yes |
| Limited Edition Game Case | No | Yes |
| Two Discs of Bonus Content | No | Yes |
| Big Daddy Scaled Replica | No | Yes |
On April 23, 2007, the Cult of Rapture website confirmed that the Limited Collector's Edition would include a 6" tall Big Daddy figurine, a "Making of" DVD, and the official soundtrack. The soundtrack CD was reduced to an EP titled The Rapture EP and contains three tracks from the game remixed by Moby[2] and Oscar the Punk[3]. The tracks are God Bless the Child, Beyond the Sea, and Wild Little Sisters.[4]
The box features an embossed graphic designed by a graphic competition winner Adam Meyer.[5] In Europe, both the limited and the standard editions come with a metal case.
Problems
[
]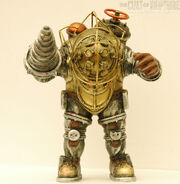 During shipping, many of the Big Daddy figurines were broken. 2K Games said that they would be instituting a replacement program, wherein customers could register to receive a prepaid shipping box to return the broken figure; in exchange, they would receive a free printed copy of the art book, BioShock: Breaking the Mold, and a replacement figurine when they became available.[6][7] After significant delays, on November 12, 2007, 2K emailed all customers who had signed up for the program to notify them that the new figures were starting to ship out along with the art books, and that due to the delay in doing so, they were no longer asking users to send back the broken figures. In mid-January 2008, users started reporting receiving their figures.[8]
References
[
]