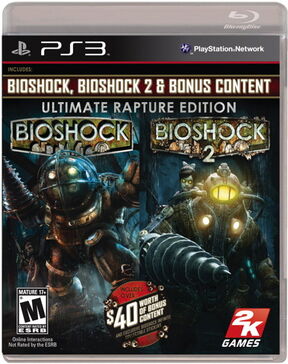 BioShock Ultimate Rapture Edition is a special re-release pack of BioShock and BioShock 2. It was released for both the Xbox 360 and the PS3, and includes over $40 of bonus content inside.
Contents
[
]
This edition includes the original BioShock, BioShock 2, and add-on content for both games.
For BioShock, this edition includes the Plasmid Pack and Challenge Rooms (which was a PS3 exclusive, now available as well for the Xbox 360 version). In addition, a new add-on for BioShock, "Museum of Orphaned Concepts," showcases early concept art and ideas that were removed or never added to the final version of the game.
For BioShock 2, the Ultimate Rapture Edition also includes the Sinclair Solutions Tester Pack, Rapture Metro Pack, Kill 'em Kindly, The Protector Trials, and Minerva's Den DLC, which come with related achievements/trophies.
This edition also comes with a collectible Columbia Sticker pack, inspired by the then-upcoming game.
Development
[
]
News of the Edition leaked on the British Board of Film Classification (BBFC) on June 15, 2012[1], which was quickly removed before sites had spread information about the Edition. Even mentioned, it was questioned as a rumor[2], especially when neither 2K or Irrational Games had yet mention any announcement on the Edition for some time, nor release any preorder promotion on retailer sites. However, on November 21st, the Edition was confirmed by 2K, including the Columbia Sticker Pack and a cryptic mention of the Museum add-on for BioShock, as well as a rumored date of November 30th[3]. Finally, 2K and Irrational Games had mentioned a date for January 14th, which even though it was claimed as the release date[4], it was revealed to be the shipping date, which retailers added last-minute preorders on their sites, currently slated towards January 22, 2013.
Video
[
]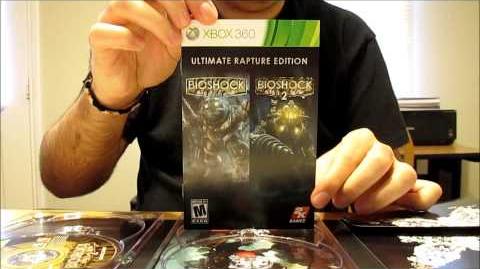 Gallery
[
]
References
[
]