Featured Article
"That man has never seen the savage face of war. But he will."
― Cornelius Slate, referring to Comstock.
Captain Cornelius Slate is a citizen and soldier of Columbia, whose view on the military is based on both elaborate expectations and his real experiences. Once a proud supporter of Zachary Hale Comstock, Slate became disillusioned due to Comstock's falsified war past, and was expelled from the Columbian military for calling it such. During the events of BioShock Infinite, Slate leads a rabble of "true" soldiers, who have taken over the Hall of Heroes in Soldier's Field. (Read More...)
Contribute
Not sure where to start?

If you are new to wikis, check out the tutorial.
To write a new article, just enter the article title in the box below.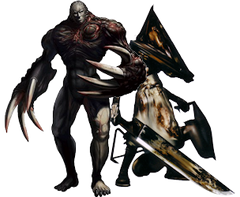 Horror Games
Go to these sites for info or for help with your own wiki!
Agony • Alice • Alone in the Dark • Amnesia • Bendy and the Ink Machine • Bioshock • Clock Tower • Dead Space • Fatal Frame • Five Nights at Freddy's • FNaF: Sister Location • Ib • Lost Alpha • Outlast • Resident Evil • SCP: Containment Breach • Silent Hill • SOMA • Spooky's House of Jump Scares • S.T.A.L.K.E.R. • The Evil Within • Until Dawn • White Day • Yomawari • Yume Nikki
Want your community included? See how!
See all of our Horror gaming wikis!

Recent News
[add · more]
Create blog post
Blogs
Well, after so long being know as "Formerly Irrational Games", we know now the new name for the company. Ghost Story Games. The old Irrational web sit…

Read more >
See more >
Unstable Teleportation Plasmid