Welcome to the BioShock Wiki!
The
BioShock
Wiki is an encyclopedia for the
BioShock
video game series. The wiki is dedicated to preserving all information related to the worlds of Rapture and Columbia, including characters, enemies, weapons, items, walkthroughs and more. This wiki is a guide to the
BioShock series
and has
2,513
articles.
Featured Article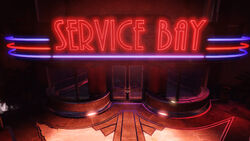 "Where there's a Bathyspheres, there's bound to be CO₂ scrubbers."
― Elizabeth
The Service Bay is where the citizens of Rapture could get their Bathyspheres repaired. The bay is located in Bathyspheres DeLuxe of Fontaine's Housewares department.
Back when the service bay was still open to the public, bathyspheres models were brought in for repairs and maintenance, and entered the facility through dock ports or airlocks. To facilitate multiple bathyspheres at any given time, the bathyspheres were transported to workstations or platforms via large cranes. (Read More...)
News
Well, it's finally happened a new BioShock game is in production. The Full announcement from 2K
2K A…
As you might've seen, has been broken for quite a while now, working not quite right. Its main iss…
Unstable Teleportation Plasmid
Contribute
Not sure where to start?

If you are new to wikis, check out the tutorial.
There is a list of things you can do on the community page.
To write a new article, just enter the article title in the box below.

hu: sv: