Carleton Rede is the author of many pulp-fiction books that document strange phenomenon. His most well known book, The Frozen Triangle, was important to Mark Meltzer's research into the location of Rapture in the storyline of There's Something in the Sea. Rede has authored many other books, including Animal ESP, Loch Ness Depths, Ghosts of Bermuda, The Venusian Connection, Yeti: The Abominable Quest, and UFO: Unidentified Flying Orgy!. Rede's main publisher appears to be Azguard Books.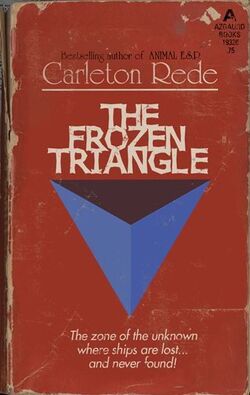 Carleton Rede was a member of the International Order of the Pawns (IOOP) under the moniker "Glass Pawn." However, Rede was much more down to earth than the subjects of his many books would suggest. His main interest in the Order was to gather interesting information for his spurious novels. Much of the information in his books about the Frozen Triangle came from the Red Pawn, Jeremiah Lynch.
Contact with Mark Meltzer
Edit
In the course of Mark Meltzer's search for his kidnapped daughter, Cindy, in 1968 he was given various clues by Orrin Oscar Lutwidge that alluded to the existence of the Frozen Triangle. Mark then read Carleton Rede's book on the subject, finding many clues that helped him to solve the riddles of the Vault Puzzle.
Later, in January 1969, Mark met Rede in person when he stopped in London during his voyage aboard the Nellie Bly. Rede gave Mark an advanced copy of his newest book, Back to the Frozen Triangle, in the hope that it would help Mark in his future research.
Publications
Edit