For the character in There's Something in the Sea, see Charles Molley.
For the character in Minerva's Den, see Charles Milton Porter.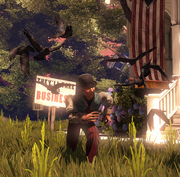 Charles is a Columbian citizen who is known to assist Henry Saltonstall. He appears to be an elderly man who passes his time by sitting on a park bench while he feeds crows. Charles, along with Saltonstall, do not appear in the final/retail version of BioShock Infinite (though Saltonstall is mentioned).
BioShock Infinite Gamescom 2010 Gameplay TrailerEdit
In the gameplay demo, Saltonstall calls for Charles' assistance after he notices Booker DeWitt pick up a bolt-action sniper rifle. Charles unleashes a Murder of Crows on DeWitt, disorienting him long enough for Charles and Saltonstall to run to a nearby ledge. Booker then shoves Charles off the ledge, causing him to land on a freight container hanging from the Sky-Line below. As Saltonstall escapes onto the Sky-Line, Booker uses his telekinetic ability to grab the Murder of Crows Vigor from Charles' corpse.
Behind the Scenes
Edit
The developers mentioned in The Art of BioShock Infinite that Charles, or at least his concept appearance, was meant to be the initial appearance for a Crow "Vigor Junkie". As that version he would have had additional bird droppings on his suit, and a Vox version would have donned a red hooded mask with tied Devil horns. The third concept, a Zealot of the Lady member, was the final version used in the game.
On September 10th, 2013, Irrational Games announced through Twitter the release of a new T-Shirt featuring Charles and his Murder of Crows.[1]
References
Edit
Community content is available under
CC-BY-SA
unless otherwise noted.