"Finest Quality Tobacco"
― Sign
The Cigar Shop is a business in Columbia which sells tobacco products, notably cigars. The company operates from stores and kiosks.
Main article: BioShock Infinite
Booker DeWitt will come across several Cigar Shops during the events of BioShock Infinite, all of which are closed.
The first Cigar Shop DeWitt encounters is at Shady Lane, the store is closed due to the 1912 Columbia Raffle and Fair. The store is located next to an unnamed grocery and opposite to Patriot's Pride.
This branch of the business is seen on an abandoned island in the Monument Island Gateway. After the closure of Monument Tower to the public, this island was evacuated and quarantined by the Columbia Police Authority, due to its proximity to the island. The shop is set in between the abandoned hotel and the Harper's Family Drugstore, inaccessible with two barrels in front of it.
The third Cigar Shop seen is in the form of a kiosk. The kiosk is set in the ticket shop in Patriot's Pavilion, to the right of the main entrance and next to the Duke's Choice Concessions booth, both are closed.
The final time the player is present near a closed Cigar Shop is at Downtown Emporia. The shop is set in the downtown area of the district in a red building, opposite to Cunningham Studios. A map of Emporia is set on the wall and smoke comes from one of the residential apartments on the top floor above the business.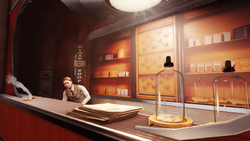 Community content is available under
CC-BY-SA
unless otherwise noted.