"There is something more powerful than each of us, a combination of our efforts, a Great Chain of industry that unites us. But it is only when we struggle in our own interest that the chain pulls society in the right direction..."

- 

Andrew Ryan

---
"The slugs alone could not provide enough ADAM for serious work. But combined with the host...
now we have something."

- 

Brigid Tenenbaum

---

This article, or section of an article, is a stub.


It is too short to provide more than rudimentary information about a subject. Would you kindly help this wiki by

expanding it

?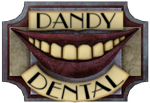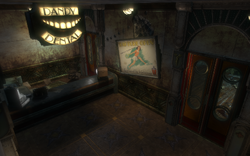 "For a limited time get a free Plasmid by Ryan Industries at Dandy Dental with any root canal. Choose from Slimdown and Telekinesis. Offer good while supplies last."
― Dandy Dental Advertisement
Dandy Dental is one of three dental facilities located in the Dental Services Area on the bottom floor of the Medical Pavilion in Rapture.
The small facility contains a reception area, an operating room, and a special room set aside for Rapture Open's "Score An Ace For Dental Hygiene!" event. It's door frame is adorned with Dandy Dental's logo, a toothy smile. At the reception desk, The Ink Spots' "The Best Things in Life" can be heard playing from the adjacent room. The operating room is a constant reminder of Rapture's steady decay. Water pouring from the ceiling has begun to flood the room. Plasmids surely made dental procedures faster than usual, as evidenced by the small number of dental chairs.
Built by Frank Fontaine in the early years of Rapture, Dandy Dental stands out from its rivals, Painless Dental and Chomper's Dental, by giving away a free Plasmid with any root canal. This marketing technique is evident on a number of posters found in the Medical Pavilion. The Plasmids available at the time were Slim-Down and Telekinesis. By the time Jack arrives, only one free Telekinesis remains. Dandy Dental appears to have partnered with Rapture Open for marketing purposes.
New Discoveries
Edit
Plasmids and Tonics (Found)
Edit
Dr. Suchong - Testing Telekinesis - Leaning on the control panel, near the Gatherer's Garden.
Behind the Scenes
Edit
Community content is available under
CC-BY-SA
unless otherwise noted.