---

This article could use some more pictures.

Would you kindly help BioShock Wiki by

adding some

?

Pictures needed:

Screenshots: The Decoy Plasmid in-use; the Decoy Plasmid while wielded; the glitch (see below).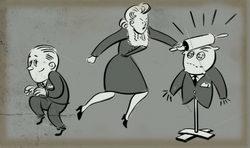 For the Plasmid in BioShock, see Target Dummy.
"Enemies on your back? Distract their attention with a helpful decoy. They take the heat… so you don't have to!"
― Decoy Plasmid advertisement
Decoy is a Plasmid available in BioShock 2. When selected, it creates a translucent figure in the player's center field of view, marking the location where the decoy target will be created. Decoy is an active Plasmid that instantly creates a single decoy target in a single location, at the cost of EVE.
The decoy target is an illusion; a translucent image of the player that Splicers, hostile Big Daddies, hostile Security Bots, Security Cameras, and Turrets will regard as an enemy. A maximum of one decoy target may be created at a time. Casting Decoy any subsequent number of times will remove and replace the active decoy target with a new one. The decoy has a duration of approximately ten[citation needed] seconds before disappearing. The created decoy does not have health or any impact points. All forms of attack against the decoy target simply pass through it.
Upgrade Path
[
]
First available at a Gatherer's Garden in Minerva's Den for 60 ADAM.
Minerva's Den

[

]
First available at a Gatherer's Garden in Minerva's Den for 100 ADAM.
Minerva's Den

[

]
Can be purchased for 120 ADAM in Gatherer's Gardens onward the first machine in Operations.
Recommended Tonics

[

]
Video
[
]
Gallery
[
]
Bugs/Glitches
[
]
Behind the Scenes
[
]
At the first stage of Decoy, Delta's symbol (Δ) on his left hand glows. Each level adds another, smaller symbol inside the previous one.
A similar ability exists in BioShock Infinite, where Elizabeth brings a statue of Booker through a Tear to use as a decoy.
References
[
]