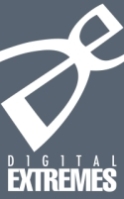 With over 100 of the industry's most talented artists, designers and programmers, Digital Extremes works hard to make its employees the best they can be by providing a positive, purpose-filled work atmosphere that in turn, drives creativity and innovation in their games. While honoring their commitment to provide staff a digitally extreme work environment to collaborate and create superior videogame experiences, Digital Extremes constantly pushes the limits of what can be accomplished on target platforms through artistic style, sleek code design, and technical efficiency. Beyond creating some of the most highly regarded AAA games in the industry, Digital Extremes also prides itself on its technical know-how. Focused on reducing the risk and improving the efficiency of AAA console game development, the Evolution Engine™, Digital Extremes proprietary middleware technology, offers a variety of unique tools and processes to help developers make better games - on time and on budget.
Their Goal
Edit
Digital Extremes loves what they do and works hard to better themselves on every project they tackle. Furthermore, workers are always trying to evolve both as individuals, and as a company so their studio can continue to provide a truly one of a kind work experience - and of course, to continue to create incredibly fun and entertaining games.
Partnership with 2K Games
Edit
After working with 2K Games, a publishing label of Take-Two Interactive Software, Inc on BioShock, Digital Extremes signed a partnership with 2K to develop the multiplayer experience for BioShock 2. Under this partnership, Digital Extremes is working closely with the creative team at 2K Marin to develop a new and substantial element that enhances the lore and fiction of the BioShock universe.
Recent Games and Projects
Edit
BioShock - Worked with 2K Studios on the PS3 Version.
BioShock 2 - Developing the multiplayer experience, Digital Extremes is working very hard while 2K Marin and 2K Australia are working on the single player campaign.
Community content is available under
CC-BY-SA
unless otherwise noted.