No Man's Sky Update - The Loop
Play Sound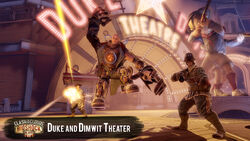 "Remember, boys and girls, don't be a dimwit!"
― Dimwit & Duke cabinets
Duke and Dimwit Theatre is the second map in Clash in the Clouds DLC in BioShock Infinite. Like all maps, it contains 15 Blue Ribbon Challenges and 15 waves of enemies, including Handymen, Motorized Patriots, Firemen and Zealots. The map is based on the Soldier's Field level from the main game.
It is located at the Duke and Dimwit Theatre, a sub-section of Soldier's Field dedicated to indoctrinating children with Duke and Dimwit propaganda. Office doors can be used for special respawn tactics.
Duke and Dimwit Theatre can be unlocked for 250 Silver Eagles.
Clearing all 15 waves yields the "Duke or Dimwit?" Achievement/Trophy.
Waves
[
]
Show list
Wave 1
7 Enemies
5 Soldiers
2 RPG Soldiers
Wave 2
9 Enemies
6 Soldiers
1 Patriot
1 Fireman
1 Zealot
Wave 3
6 Enemies
Wave 4
11 Enemies
9 Soldiers
2 Volley Gunners
Wave 5
6 Enemies
Wave 6
1 Enemy
Wave 7
11 Enemies
8 Soldiers
2 RPG Soldiers
1 Patriot
Wave 8
6 Enemies
4 Soldiers
2 Volley Gunners
Wave 9
8 Enemies
5 Soldiers
1 Zealot
2 Patriots
Wave 10
8 Enemies
6 Soldiers
2 Volley Gunners
Wave 11
8 Enemies
Wave 12
8 Enemies
Wave 13
7 Enemies
5 Soldiers
2 Volley Gunners
Wave 14
5 Enemies
Wave 15
12 Enemies
10 Soldiers
2 RPG Soldiers
Gear Drop Pool
[
]
Gallery
[
]
Stationary Stage
[
]
Mobile Stage
[
]