"There is something more powerful than each of us, a combination of our efforts, a Great Chain of industry that unites us. But it is only when we struggle in our own interest that the chain pulls society in the right direction..."

- 

Andrew Ryan

---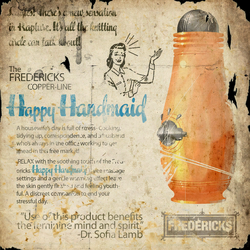 "Use of this product benefits the feminine mind and spirit."
― Dr. Sofia Lamb
Fredericks is a company operating out of Rapture that offered several types of feminine products. It was most well-known for the Happy Handmaid, a sex toy.
Happy Handmaid
Edit
Rapture was different from most Mid-Twentieth Century societies for a variety of reasons. One of those reasons included the city's sexually liberated population. Men and women were encouraged to seek out pleasure and live without shame. Fredericks of Rapture catered to these carnal needs with their Copper Line of products.
The Happy Handmaid was a vibrator geared towards women with the promise of relieving stress and boosting peace of mind. The product was publicly endorsed by acclaimed psychiatrist Dr. Sofia Lamb. Advertisements for Happy Handmaid can be seen in public venues such as the Grand Foyer of the Adonis Luxury Resort.
Advertisement
Edit
Ladies! There's a new sensation in Rapture! It's all the knitting circle can talk about! The Fredericks Copper-Line Happy Handmaid
A housewife's day is full of stress - Cooking, tidying up, correspondence and a husband who's always in the office working to get ahead in the free market! RELAX with the soothing touch of the Fredericks Happy Handmaid. Three massage settings and a gentle warming effect leave the skin gently flushed and feeling youthful. A discreet companion to end your stressful day.
"Use of this product benefits the feminine mind and spirit." -Dr. Sofia Lamb
Behind the Scenes
Edit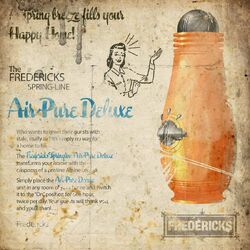 Early concept art shows that the original design had a more prosaic use as an air freshener.
A spring breeze fills your Happy Home! The Fredericks Spring-Line Air-Pure Deluxe
Who wants to greet their guests with stale, stuffy air? It's simply no way for a home to be. The Fredericks Springline Air-Pure Deluxe transforms your home with the crispness of a pristine Alpine zephyr.
Simply place the Air-Pure Deluxe unit in any room of your home and switch it to the "On" position for one hour, twice per day. Your guests will thank you, and you'll thank...Fredericks
Community content is available under
CC-BY-SA
unless otherwise noted.