"The slugs alone could not provide enough ADAM for serious work. But combined with the host...
now we have something."

- 

Brigid Tenenbaum

---

This article, or section of an article, is a stub.


It is too short to provide more than rudimentary information about a subject. Would you kindly help this wiki by

expanding it

?
---

This article could use some more pictures.

Would you kindly help BioShock Wiki by

adding some

?

Pictures needed:

Screenshots: Pictures of the overall area; frozen Splicers.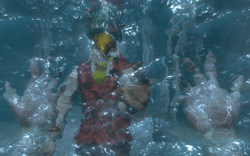 The Frozen Tunnel is a location in BioShock. It leads to Fort Frolic's Poseidon Plaza.
Main article: BioShock
Here, Jack will find Martin Finnegan, a Houdini Splicer and former disciple of Sander Cohen.
When entering the central room, Finnegan will encase Jack in ice. Once Jack thaws out, Finnegan, posing as a frozen statue, will attack when Jack gets close enough to him. While Finnegan is alive however, unfreezing the nearby Splicers will make them attack Finnegan.
New Discoveries
Edit