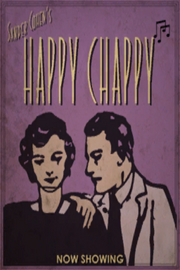 Happy Chappy is a musical written by Sander Cohen, which was shown in the Footlight Theater and Fleet Hall in Rapture. Judging by the poster, the musical starred at least one man and woman. One might assume that Happy Chappy is one of the Rapture propaganda musicals/plays, produced under Andrew Ryan's supervision, to promote his philosophy during the early stages of the civil war. Happy Chappy played in the Fleet Hall until the closing of Fort Frolic at the latest, while the running time in the Footlight Theater is unknown (But clearly ended a while before the player arrives in BioShock).
Behind the Scenes
Edit
The term "Happy Chappy" refers to a male who is very pleased, happy and is often used in a sarcastic or negative way.
Community content is available under
CC-BY-SA
unless otherwise noted.