Jennifer Walker is the five-year-old daughter of Harold and Janet Walker from Pennsylvania. On June 14, 1967, she was kidnapped by a Big Sister and taken to become a Little Sister in Rapture.
There's Something in the SeaEdit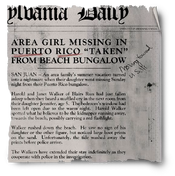 Main article: There's Something in the Sea
Jennifer Walker and her parents were staying in a bungalow located in San Juan, Puerto Rico, during the time of her kidnapping. The Walkers had just fallen asleep when they heard a cry coming from their daughter's room. Harold Walker rushed to his daughter's room and managed to get a glimpse of the kidnapper, running towards the sea, through the window that had been left open due to the heat. Harold ran to the beach but didn't make it in time as the pair had vanished. He noted to the police that he had seen what he thought to be a red flashlight, carried by the intruder and large boot prints in the sand, which was unfortunately washed away by the tide. The Walkers extended their stay in Puerto Rico, to assist in the investigation.
Transcript
Edit
AREA GIRL MISSING IN
PUERTO RICO "TAKEN"
FROM BEACH BUNGALOW

SAN JUAN - An area family's summer vacation turned
into a nightmare when their daughter went missing Sunday
night from their Puerto Rico bungalow.


Harold and Janet Walker of Blairs Run had just fallen
asleep when they heard a muffled cry in the next room from
their daughter Jennifer, age 5. The bedroom's window had
been left open due to the warm night. Harold Walker
spotted what he believes to be the kidnapper running away,
towards the beach, possibly carrying a red flashlight.

Walker rushed down the beach. He saw no sign of his
daughter or the other figure, but noticed large boot prints
on the sand. Unfortunately, the tide washed away the
prints before police arrive.

The Walkers have extended their stay indefinitely as they
cooperate with police in the investigation.

Moving toward
U.S.!!!