"What's your golf handicap? Take this chance to turn your handicap into your enemy's with this fresh melee mode where every blunt object is a golf club. No putting."
― Official DLC description[1]
Kill 'em Kindly is a game mode for BioShock 2 Multiplayer released as a Downloadable Content on May 11th, 2010, alongsides the Rapture Metro Pack and the Zigo & Blanche DLC. In this game mode, the players can only use golf clubs to strike enemies with melee attacks. This mode is free to download on the Xbox Live, and the PlayStation Network.[2] It was also free to download on the Games for Windows Live online platform for PC until its closure, but is now included on the regular game on Steam.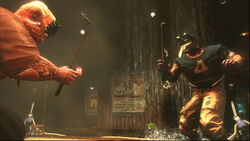 As this game mode doesn't allow for the use of weapons, research, or Plasmids, the key to success lies in proper use of Gene Tonics. The best ones to use are as follows:
In addition, quick reflexes and movement are an important part of this game mode. Avoid running into others head-on, and prioritize unaware opponents. When attempting to hit an enemy, press (or, if the player has charged up a shot with Slugger, release) the hit button the moment before one enters melee range. By the time the swing animation finishes, the hit will connect.
As this is a reflex-based game mode, the way a match plays out depends heavily on the user's state of alertness, as well as connectivity. Avoid playing this game mode if tired, or if one has a bad connection.
Behind the Scenes
Edit
The Kill 'em Kindly Add-On also includes the files of the Rapture Metro Pack, but they aren't unlocked.[3] Presumably, this is to allow players without the content to still play with ones who do. This can be proven due to both downloads having the same file size.
The use of golf clubs in this game mode is a reference to the encounter with Andrew Ryan in BioShock.
References
Edit
↑ Kill 'em Kindly on Xbox.com
↑ "New BioShock 2 DLC Arrives Tomorrow" article by Jim Reilly at XboxLive.Ign.com
↑ "Show #358: Left 4 Dead's The Passing, BioShock 2 MP DLC and Split/Second" podcast on Major Nelson's blog (at 0:23:20)