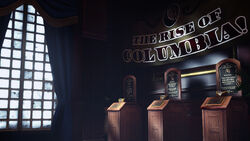 For the equivalent in Rapture, see Need to Know Theater.
The Kinetoscope is a silent movie device found throughout Columbia that was created by Fink Manufacturing. Each provides a roughly 30-second silent film accompanied by music. Kinetoscopes largely promote Columbian propaganda.
They are considered a collectible in BioShock Infinite, Clash in the Clouds and Burial at Sea - Episode 2. Along with Telescopes, finding and using them all is required to unlock the "Sightseer" achievement/trophy.
Unlike Voxophones, Kinetoscopes are not stored in the player's inventory and must be physically visited for a repeated viewing. However, several Kinetoscopes appear in more than one level during the course of the game.
Note: Kinetoscopes marked with "†" can be found in more than one level
"Beware the False Shepherd!" - New Eden Square near the Grocery and the Barbershop Quartet
"Behold the Miracle Child! A Prophecy is Fulfilled!" - Hall of Heroes gift shop
"The Lamb is the Future of the City" - Hall of Heroes gift shop
"A City Mourns..."† - Hall of Heroes gift shop
"Sunrise" - On the left just after stepping off the elevator.
"Hummingbirds" - On the way to "Where We Work".
"Battleship Falls" - In the hallway past the Security Center and the one-way mirror.
Removed Kinetoscopes
Edit
Behind the Scenes
Edit
The real life Kinetoscope, also called the Kinetograph, was devised by William Kennedy Laurie Dickson under the supervision of Thomas Edison and publicly released in 1894. Although Edison had the technology to synch sound to film, similar to how it's presented in the game, Edison decided against doing so with his kinetoscopes and film would remain silent until the late 1920s.
Most of the music used to accompany these films were taken from the theater organ work of Sigmund Krumgold and Lew White. Theater organs were often used in movie palaces during the silent film era to follow the action on the screen. The pipes not only sounded like a typical church organ, but could imitate a full orchestra as well as provide sound effects.
One Kinetoscope in The Columbian Archeological Society says "Magical Melodies, Sweet Columbia", but the title of the actual film is "Magical Melodies Sweep Columbia".
The portions of the Kinetoscope movies that show a newspaper all have the same story in the bottom-right corner "Manager cut off by fire: Rescued".
References
Edit