Transcript:
[Albert Fink conducts a band for an admiring crowd]

Jeremiah Fink's brother Albert is Columbia's most popular composer!

[another shot of Albert conducting]

His many songs subjugate the charts!

[a couple dances next to a fireplace while a gramophone plays the latest record from
Magical Melodies
]

Can all this amazing music come from just one man?!
FIN
Location: In the museum section the first one on the right side. It's available to purchase in the museum for $100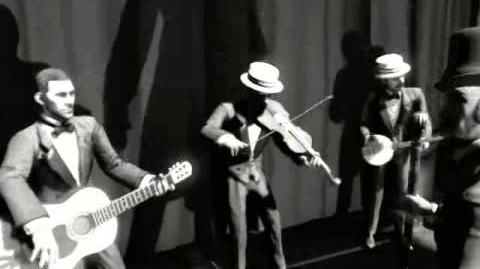 Behind the Scenes
Edit
This is the cheapest Kinetoscope to purchase in the museum.
The poster of the Kinetoscope says "Magical Melodies, Sweet Columbia!", but the title in the film is "Magical Melodies Sweep Columbia!"
A record sleeve for Magical Melodies briefly appears in front of the gramophone, but the texture does not appear in-game.
Instead of the usual theater organ music, this Kinetoscope uses a piano rendition of Scott Joplin's "The Easy Winners" as the backing track.
Community content is available under
CC-BY-SA
unless otherwise noted.