"There is something more powerful than each of us, a combination of our efforts, a Great Chain of industry that unites us. But it is only when we struggle in our own interest that the chain pulls society in the right direction..."

- 

Andrew Ryan

---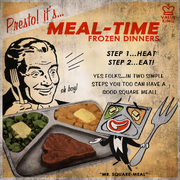 "Yes folks… In two simple steps you too can have a good square meal!"
― Advertisment
Meal-Time Frozen Dinners is a line of frozen meals produced by Value King in Rapture that are eaten on metal trays. Its mascot, Mr. Squaremeal, is a guy in a stylish suit with a meal tray for a face.
Burial at Sea

[

]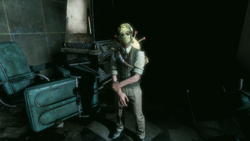 Main article: Burial at Sea
Some of the Splicers trapped in Fontaine's Department Store have cut out the face of the man on the poster to use as a mask to hide their deformities.
Behind the Scenes
[
]
The ad for Meal-Time Frozen Dinners seems to be based on a 1940's ad for Benedict Peas. The man on the advertisement is a slightly altered royalty-free "Radio Announcer" clip art.
Meal-Time Frozen Dinners were originally meant to make its first appearance in BioShock, which is evident by the fact that the advertising poster was designed by concept artist Robb Waters,[1] who didn't work on BioShock 2 (except for being credited under "Team").
References
[
]