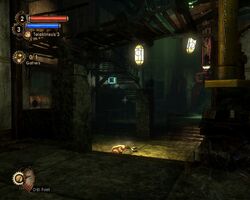 "Deep down in the heart of Pauper's Drop is a little spot the locals call Market Square. If you're hungry, looking for an ADAM fix, or just need a dry bed for the night, the Market's got what you're looking for. Stop on by... but watch your back."
― Level description
Pauper's Drop Market is a retooled environment from the BioShock 2 single player campaign, and it is the third level for The Protector Trials downloadable content. It is inspired by the Skid Row located in Pauper's Drop.
General Tips
Edit
Types of Enemies Encountered (By order of appearance)
Edit
Power to the
People Machine
Trial One
Edit
Equipment
Edit
Cyclone Traps are useful to secure the area around the Little Sister.
Keep the Solid Slugs for the Brute Splicers as this type of ammo will stop their charges and make them fall.
With Headhunter, try to always aim for the enemies' heads to kill them in one shot for the weaker opponents, and three or four shots for the Brute Splicers.
Use the Spear Gun against distant enemies, especially the Leadhead Splicers, but keep the Shotgun for close combat.
Don't try to refill your health in a pond of water with Fountain of Youth, as you are more vulnerable while doing it.
Use Decoy 2 to distract your enemies so you can refill your ammunition at the Vending Machines.
Trial Two
Edit
Equipment
Edit
Incinerate! 2 is useful to make the Splicers step back when swarming at you or the Little Sister. But don't fire at someone in or near the pond of water as it will have no effect. You can try to charge it to fire fireballs at group of enemies, but it will cost you more time, health and EVE than to simply put them one by one in fire.
Winter Blast 2 is useful to stop the enemies in their progression, but only charge it against the Brute Splicers to gain you some time.
The Miniature Turrets can provide good defenses against the weakest enemies (Thuggish and Leadhead Splicers) and will also distract the tougher enemies, but don't forget that ammunition is limited in the Vending Machines.
Keep the Anti-Personnel Rounds to use against the Brute Splicers. Try to freeze them with Winter Blast 2 to kill them more quickly.
Trial Three
Edit
Equipment
Edit
Before starting, call in a couple of Security Bots with Security Command 2.
Immediately after laying down the Little Sister, deploy two to three Mini-Turrets around her.
Behind the Scenes
Edit
Community content is available under
CC-BY-SA
unless otherwise noted.