GTA: The Criminal Enterprises - The Loop
Play Sound
"There is something more powerful than each of us, a combination of our efforts, a Great Chain of industry that unites us. But it is only when we struggle in our own interest that the chain pulls society in the right direction..."

- 

Andrew Ryan

---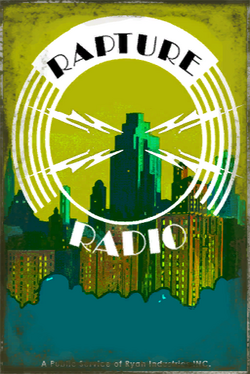 "…You're tuned to Radio Rapture, music for the discerning ear."
― Broadcast
Rapture Radio is the primary radio station to play throughout Rapture, and the only one heard in the series.[1] Its advertisements can be seen throughout the city. Even after the terrible Civil War in Rapture, licensed period tracks can still be heard from the many jukeboxes and record players around the city, serving an eerie reminder of what once was a beautiful utopia. Rapture Radio is a public service of Ryan Industries. This is perhaps the only service that Andrew Ryan did not charge his citizens to appreciate.
The PA system still occasionally broadcasts period tracks and songs that can be heard throughout Rapture, dating from the late 1920s to late 1950s. Interspliced are friendly PSAs and advertisements.
BioShock

[

]
Main article: BioShock Licensed Soundtrack
Promotional advertisements can be seen in the Kashmir Restaurant and Sander Cohen's apartment.
BioShock 2

[

]
Main article: BioShock 2 Licensed Soundtrack
In anticipation for the release of BioShock 2, Rapture Radio held broadcasts from February 9, 2010 to April 29th.[2] The tracklist featured several songs from the soundtrack as well as others.
To celebrate New Year's Eve 1958, Rapture Radio sent a disc-jockey to capture the festivities and entertain the guests with music at the famed Kashmir Restaurant. Shortly before midnight, listeners were stunned to hear reports of gunfire and chaos as the station suddenly went off the air and dissolved into static.
The following is a transcript of the last nine minutes before the station went off the air.
Transcript
[Jack Purvis' "Mental Strain at Dawn"]

[sounds of a party]

DJ: "Keep it tuned to Rapture Radio for who's here, who's not, and everything going down under the sea!"

DJ: "Say is that Anna Culpepper and Sander Cohen chatting up Silas Cobb? Why yes, I believe it is!"

DJ: "Steve Barker! Now, there's a man who knows how to put on a show! Looks like he's come over from Footlight Theater to join in the festivities tonight!"

DJ: "Boy, there's a corner with a bit of brains in it! Professor Julie Langford, Dr. Steinman, Dr. Tenenbaum, and Dr. Suchong, I believe. Boy, there's a bunch of eggheads!"

[Django Reinhardt's and Stéphane Grappelli's "La Mer"]

DJ: "Alright everybody, we're almost at midnight. Things are really starting to get cooking here and you don't want to miss it! Come on down to the Rapture Masquerade Ball!"

PA system: "And now for a special message from Andrew Ryan:"

ANDREW RYAN: "Good evening, my friends. I hope you are enjoying your New Year's Eve celebration; it has been a year of trials for us all. Tonight I wish to remind each of you that Rapture is your city. It was your strength of will that brought you here, and with that strength you shall rebuild. And so, Andrew Ryan offers you a toast:"

"To Rapture, 1959! May it be our finest year."

DJ: "Why, it's the guys who cooked up this place! The Wales brothers, Daniel and Simon! Takes a lot of brains to plan a city; let alone under the water!"

[Martha Tilton's and Benny Goodman's "Bei Mir Bist du Schoen"]

DJ: "Now folks I wouldn't lie to you, this is the best party in Rapture all year! You've got to come down here! Everyone who's anyone is here!"

DJ: "Say did you catch Andrew Ryan's speech earlier? '1959 will be our greatest year' he says. You'd better believe it, kiddies! Now, let's get it started with a bang, shall we?"

[Diane McClintock can be heard recording her audio diary New Year's Eve Alone]

[explosions and screaming]

[static]

[Emergency Message (plays on repeat)]

"This is an emergency message from Ryan Industries: There has been an incident at the Kashmir Restaurant. Please return to the safety of your homes until further notice. Thank you."
A facsimile of the original interface with the disc jockey's commentary, but with a slightly modified track-listing can be heard at RaptureArchives.
Below is a reconstructed track list:
From the Standard and Special Edition Soundtrack
| Song title | Artist | Year |
| --- | --- | --- |
| "La Mer" | Django Reinhardt and Stéphane Grappelli | 1949 |
| "The Doggie in the Window" | Patti Page | 1952 |
| "Jitterbug Waltz" | Fats Waller | 1942 |
| "Night and Day" | Billie Holiday | 1939 |
| "We Saw the Sea" | Fred Astaire | 1936 |
| "The Trouble With Me is You" | Red McKenzie | 1935 |
| "The Skeleton in the Closet" | Putney Dandridge | 1935 |
| "The Boogie Man" | Todd Rollins and his Orchestra with Chick Bullock | 1934 |
| "I Cover the Waterfront" | Connie Boswell | 1933 |
| "20th Century Blues" | Noel Coward | 1931 |
| "Mental Strain at Dawn" | Jack Purvis and his Orchestra | 1929 |
From the game
| Song title | Artist | Year |
| --- | --- | --- |
| "Praise the Lord and Pass the Ammunition" | Kay Kyser and his Orchestra | 1943 |
| "Dawn of a New Day (Song of the World's Fair)" | Horace Heidt and his Musical Knights | 1939 |
| "My Heart Belongs to Daddy" | Mary Martin with Eddy Duchin and his Orchestra | 1938 |
| "Daddy Won't You Please Come Home" | Annette Hanshaw | 1929 |
Other
Note: No official track-list was ever released. The following list has been compiled from various sources
| Song title | Artist | Year |
| --- | --- | --- |
| "St. James Infirmary" | Spike Hughes and his Orchestra | 1930 |
| "All By Myself" | Aileen Stanley | 1921 |
| "Crazy Blues" | Mary Stafford | 1921 |
| "I'm Gonna Jazz My Way" | Mary Stafford | 1921 |
| "Struttin' Blues" | Leona Williams | 1922 |
| "The Wreck of the Southern Old '97" | Ernest Thompson | 1924 |
| "Who Cares" | Eddie Elkins Orchestra | 1930 |
| "Sally Goodin" | Obed Pickard | 1929 |
| "Who Dat Up Dere" | Woody Herman | 1943 |
| "Hey Ba Ba Re Bop!" | Lionel Hampton and his Orchestra | 1945 |
| "Across the Alley from the Alamo" | Mills Brothers | 1947 |
| "Civilization" | Danny Kaye and the Andrews Sisters | 1948 |
| "Delilah Jones" | The McGuire Sisters | 1956 |
| "Put 'em in a Box, Tie 'em with a Ribbon, and Throw 'em in the Deep Blue Sea"† | Danny Kaye and the Andrews Sisters | 1950 |
| "Happy Feet"† | Cab Calloway and his Orchestra | 1930 |
†Songs referenced from the Wikipedia article[3]
All others documented through the 2K Forums[4] and RaptureArchives.org[5]
Burial at Sea

[

]
Main article: Burial at Sea Licensed Soundtrack
Episode 1

[

]
Main article: Burial at Sea - Episode 1
As Booker DeWitt and Elizabeth visit Rapture Records on High Street, a Radio Rapture record can be seen in the display case along Ryan's Songbird and Why Even Ask?
Episode 2

[

]
Main article: Burial at Sea - Episode 2
When Elizabeth visits the Service Bay, she can hear her own song, You Belong to Me, played on a radio in the changing room.
Two weeks after the 1958 New Year's Eve Riots, a Civil War announcement was broadcast on the radio to inform the citizens about the ongoing conflicts.
An advertisement for the radio station can later be seen in Artemis Suites.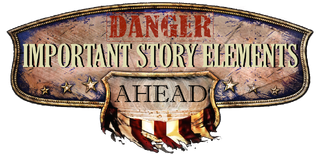 Behind the Scenes
[
]
The radio's ad appears to be a redesigned image from a fruit crate label of Big City Brand Bartlett pears.
The Rapture Radio advertising poster is present in BioShock Infinite but it is not seen during normal gameplay. The advertisement, along with others posters, is located in the Bathysphere Station's tunnel, which Booker DeWitt and Elizabeth leave Rapture through during the final level of the game, but as the Bathysphere turns the other way while exiting, it is never in the player's field of view. It can be seen while using Console Commands, where it is shown to be flipped horizontally.
References
[
]