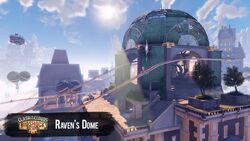 ---

This article could use some more pictures.

Would you kindly help BioShock Wiki by

adding some

?

Pictures needed:

More screenshots (preferably unprocessed files without HUDs
"…We worship the raven, so that we might cover the city with eyes…"
Raven's Dome is the third map in Clash in the Clouds DLC in BioShock Infinite. Like all maps, it contains 15 Blue Ribbon Challenges and 15 waves of enemies, including Handymen, Motorized Patriots, Firemen and Zealots.
The Raven's Dome itself is a large aviary floating at the top of the Fraternal Order of the Raven headquarters. It is surrounded by numerous hovercraft and gunships, as well as Freight Hooks suspended by balloons. Office doors can be used for special respawn tactics.
Raven's Dome can be unlocked for 500 Silver Eagles.
Clearing all 15 waves yields the "Rooftop Ruffian" Achievement/Trophy.
Show list
Wave 1
6 Enemies
Wave 2
7 Enemies
Wave 3
7 Enemies
5 Soldiers
2 Volley Gunners
Wave 4
7 Enemies
5 Soldiers
1 RPG Soldier
1 Zealot
Wave 5
4 Enemies
Wave 6
7 Enemies
Wave 7
6 Enemies
1 Soldiers
2 Snipers
2 Volley Gunners
1 Zealot
Wave 8
7 Enemies
Wave 9
6 Enemies
2 Soldiers
1 RPG Soldier
3 Firemen
Wave 10
8 Enemies
4 Soldiers
3 RPG Soldiers
1 Fireman
Wave 11
6 Enemies
2 Soldiers
1 RPG Soldier
2 Volley Gunners
1 Fireman
Wave 12
8 Enemies
Wave 13
4 Enemies
Wave 14
8 Enemies
4 Soldiers
4 RPG Soldiers
Wave 15
3 Enemies