"When a person's got nothing, hope's about the kindest thing you can give her. Or the cruelest."
― Samantha Kemp
Samantha Kemp was a former Rapture citizen and now a prisoner in Fontaine's Department Store. She was introduced in BioShock Infinite's DLC Burial at Sea - Episode 2.
As a former employ of Frank Fontaine and now a follower of Atlas, she found several similarities between the two of them. She was impressed by Atlas leadership and was given hope thanks to the brief "order" he achieved in the Department Store. Whether or not she survived her time in the prison or was executed by Ryan's Security remains unknown, although it is known that she was still alive on the 24th of December, 1958.[1]
Audio Diaries
Edit
Burial at Sea - Episode 2Edit
Behind the Scenes
Edit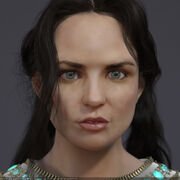 Samantha Kemp's Audio Diary portrait was adapted from a render of a model created by Peter Anderson, a modeler for BioShock Infinite, seen right and to be compared to her diary photo. The render was first added July 20th, 2013, and shows features which are cropped away in the portrait version. The original purpose of the model is not given.[2]
References
Edit
↑ Samantha Kemp's Audio Diary: Atlas Provides