"Feeling lost? Directionless? Alone, perhaps? Are you a compassionate soul, run ragged by the Rapture rat race? Fear not, my child, for you have a place in the flock of Father Simon Wales. Join the Rapture Family, and start down the true path to salvation."
― Level Description
Simon Wales' Church is a retooled environment from the BioShock 2 single player campaign, and it is the fourth level for The Protector Trials downloadable content. It is inspired by Pumping Station 5 located in Siren Alley.
General Tips
Edit
Types of Enemies Encountered (By order of appearance)
Edit
Power to the
People Machine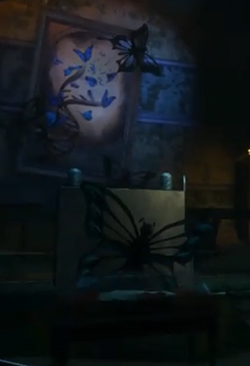 Trial One
Edit
Equipment
Edit
Proximity Mines are best placed around the Little Sister at the start.
Heat-Seeking RPGs should be saved for the tougher enemies such as Spider and Brute Splicers.
Decoy should be used regularly to provide assistance in drawing the enemy away from the Little Sister.
Telekinesis can be used to pick up and throw the numerous red barrels scattered throughout the level and should be on hand to catch thrown Frag Grenades.
The Drill can be used as a quick response with the help of Drill Dash to clear enemies off the Little Sister.
Trial Two
Edit
Equipment
Edit
The Miniature Turrets should be set up at the start around the Sister in a pair. They should be replenished when destroyed. However, they come in limited supply, so use them carefully.
The Trap Spears can be set up at the start of the game or can be kept to fend off the Splicers, as they are mostly a one-hit kill before they produce the wire. Avoid running into them, though.
Hypnotize should be used a much as possible, especially against the tougher enemies, as the player has limited offensive capabilities.
Trial Three
Edit
Equipment
Edit
Cyclone Traps should be placed around the Little Sister and charged with Incinerate!
Incinerate! should be used often to do continuous damage to enemies.
The Machine Gun goes well with Incinerate!, as both rely very little on accuracy.
Anti-Personnel Rounds should be saved for the Brute and Spider Splicers until the player can afford to replenish them.
Cyclone Trap can be used after the fighting has started to get Splicers off the Little Sister, as hitting them with it will catapult them into the air instantly, ending their attack.
Community content is available under
CC-BY-SA
unless otherwise noted.