For the jazz and blues songs from the period, see BioShock 2 Licensed Soundtrack.
Sounds from the Lighthouse is the official score for BioShock 2, its multiplayer game and both downloadable content The Protector Trials and Minerva's Den, composed by Garry Schyman and released on February 9, 2010 as a single audio CD with its special edition. The score features a darker ambiance than BioShock's original soundtrack, with the apparition of jazz elements to mark new places and characters introduced in the game. It contains twenty-six tracks spanning a total of forty-seven minutes and thirty-seven seconds.
Background
[
]
Following his work on BioShock, composer Garry Schyman was invited to write the score for BioShock 2, this time working with audio lead Michael Kamper.
The opening cutscene with Eleanor and Subject Delta is underscored by "Pairbond" using the violin as young Eleanor's "voice". Portions of the track were used as leitmotifs with the cello portion heard during Delta's first venture into the ocean and parts of the violin strings heard during Eleanor's communication through ADAM-induced visions.[1]
The ambiance of Rapture's ghetto was highlighted with elements of blues and jazz played from a saxophone taking cues from the music of the time period.
"The Abyss" uses ambient sounds within the composition from Delta's ocean walks using muffled electrical arcing and deep bubbling noises from overblown brass instruments.[2]
Track List
[
]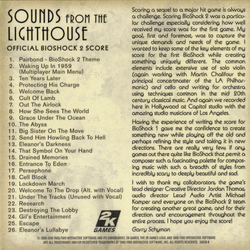 Behind the Scenes
[
]
Track No. 7 "Out the Airlock" is played when visiting the official BioShock 2 site. The same song is also called "Rapture Revealed" on Gary Schyman's website.
The sheet music for "How She Sees the World" is available for download on Gary Schyman's personal website.[3]
The track "Empty Houses" from the previous game can be also heard playing in the Point Prometheus multiplayer map inside the right wing of the museum.
References
[
]