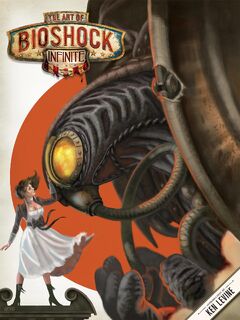 The Art of BioShock Infinite is a book of production and concept art that was released February 27, 2013, after the release of BioShock Infinite. It was published by Dark Horse as a hardcover book and is currently priced at $39.99.[1]
Sections
[
]
The currently known sections are as follows:
An introduction by Ken Levine.
Concept art for the game's main city: Columbia.
Character designs for the game's Founders, Citizens and Vox Populi.
Explanation behind the designs of the Heavy Hitters.
A chapter focused on the advertisments and propaganda used in the game.
Early explorations of released and non-released Vigors in the game.
A chapter dedicated to concept design for the Sky-Hook.
Explanation behind the Weapons and Airships design.
Another chapter on the concept art for Columbia.
Gallery
[
]
Miniature Edition
[
]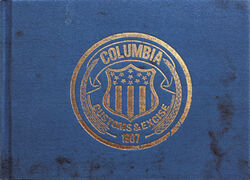 A miniature edition for The Art of BioShock Infinite was announced to be included with both the Premium Edition and the Songbird Edition of BioShock Infinite. This 64-page collectible mini-edition of the artbook provides a substantial look at the full version, published by Dark Horse Books, and includes a hand-distressed blue linen hardcover with a gold leaf embroidered stamp of Columbia, written as "Columbia: Customs & Excise 1907".
Gallery
[
]
Behind The Scenes
[
]
References
[
]