"There is something more powerful than each of us, a combination of our efforts, a Great Chain of industry that unites us. But it is only when we struggle in our own interest that the chain pulls society in the right direction..."

- 

Andrew Ryan

---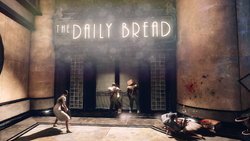 The Daily Bread is a bar in Fontaine's Department Store in Rapture. During the events of the BioShock Infinite downloadable content Burial at Sea - Episode 1, Booker DeWitt and Elizabeth may journey through this optional area.
Burial at Sea - Episode 1

[

]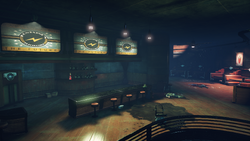 Main article: Burial at Sea - Episode 1
Upper Level
[
]
After investigating Menswear, Booker and Elizabeth find the needed lockpick and are able to enter The Daily Bread. During its time, the place was a trendy two-story bar but now is a shell of its former self. It's evident the business was the site of an intense shootout. There's a busted Turret at the upper bar, an Infusion on the rack, and the audio diary The Old Bear under the counter.
On the upper floor Booker and Elizabeth find a Tommy Gun besides a bloody corpse. There are a group of Splicers on the lower floor; one walks up the winding staircase while the other two attempt to fix a damaged turret.
Lower Level
[
]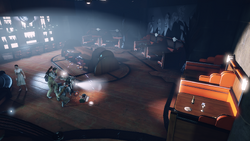 The bottom floor had more seating and a trove of useful items. There's a lockpick in the toolbox, a large bottle of EVE on a table, the Gear Better Mousetrap behind a booth. Beneath the staircase they come across the corpse of a sorry soul who, judging by the plethora of bottles around him, likely drank himself to death rather than face the despair of being trapped in the department store. He clutches a small gold bar in his hand.
Before Booker and Elizabeth leave, they can hear the chatter of Splicers outside the bar.
New Discoveries
[
]
New Weaponry
[
]
New Gear
[
]
Sander Cohen - The Old Bear - Upper floor, in the bar counter.
Behind the Scenes
[
]
"Daily Bread" is a term used to describe a person's daily salary. In the case of the bar, it is used as a play on the fact that some beer contains wheat.
The song played in the bar is Tonight for Sure! by Ruth Wallis.