GTA: The Criminal Enterprises - The Loop
Play Sound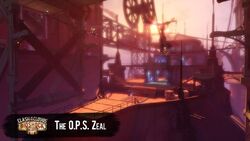 "Get out of here, snipe. You wanna know what we do to pretty little stowaways? Or maybe you don't."
― Ship Captain
The OPS Zeal is the first arena level for the downloadable content of BioShock Infinite, Clash in the Clouds. Like all maps, it contains 15 Blue Ribbon Challenges and 15 waves of enemies, including Firemen, Zealots, and Handymen. The map is based on the Finkton Docks level from the main game.
The map centers around the upper bridge of the Our Prophet's Ship Zeal, a massive airship fitted with cannons at drydock in Finkton. Freight Hooks and Sky-Lines abound amidst cargo barges around the battleship. Office doors can be used for special respawn tactics.
The OPS Zeal, being the first map, is available upon starting Clash in the Clouds.
Clearing all 15 waves yields the "Friendly Skies" Achievement/Trophy.
Waves
[
]
Show list
Wave 1
5 Enemies
Wave 2
6 Enemies
Wave 3
5 Enemies
Wave 4
6 Enemies
4 Soldiers
2 Volley Gunners
Wave 5
1 Enemy
Wave 6
6 Enemies
4 Soldiers
2 RPG Soldiers
Wave 7
6 Enemies
3 Soldiers
2 Snipers
1 Zealot
Wave 8
4 Enemies
2 Zealots
2 Volley Gunners
Wave 9
6 Enemies
Wave 10
5 Enemies
2 Soldiers
2 Snipers
1 Siren
Corpses
Wave 11
4 Enemies
2 Soldiers
1 Fireman
1 Patriot
Wave 12
4 Enemies
Wave 13
3 Enemies
Wave 14
5 Enemies
2 Soldiers
2 Snipers
1 Zealot
Wave 15
3 Enemies
Gear Drop Pool
[
]
Gallery
[
]