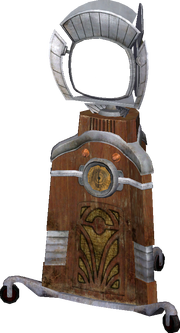 During the Turf War game mode of BioShock 2 Multiplayer players are split into two teams: Team Atlas and Team Ryan, and are tasked with capturing and holding the control points present in the level. A player standing close to a neutral or enemy control point will gradually charge up a meter, which will earn the player's team the control point if it fills up completely. The team that managed to maintain control over the most points for the longest amount of time by the end of the match wins.
Control Point Locations
Edit
"The slugs alone could not provide enough ADAM for serious work. But combined with the host...
now we have something."

- 

Brigid Tenenbaum

---

This article, or section of an article, is a stub.


It is too short to provide more than rudimentary information about a subject. Would you kindly help this wiki by

expanding it

?
1 in the Brewery upper level.
1 in the center of the Boxing Ring in Tavern.
1 at the Back Entrance.
1 in the lower central part of the Courtyard.
1 in the Apartments on the second floor.
1 on the central balcony on the third floor.
1 in Deep Freeze.
1 in Dry Storage.
1 on the Warehouse Main Floor.
1 in the middle of the Lower Mall, between the Tobaccoria and Eve's Garden.
1 in Eve's Garden upstairs.
1 in the Casino upstairs, near its south entrance.
1 in Geothermal Control.
1 at the base of the Core.
1 in Heatloss Monitoring.
1 in the Kashmir Reception, near the restaurant's entrance.
1 in the Dining Foyer, near the large cake in the center of the room.
1 in the Silk Lounge, near the crater on the floor.
1 in the Lower Atrium, near the check-in lobby.
1 in the Upper Atrium, on the bridge, in front of the elevator shaft.
1 in the Penthouse Suite, in front of the blocked door to the west on the staircase.
1 In the middle of the "Shops" Area Pit.
1 Under the dock holding the RPG turret in the Lower Wharf.
1 in the Metro Entrance, at the beginning of the hallway leading to the Upper Wharf.
1 in the Museum Entrance, outside of the Supervisor's Office.
1 in the Coral Display, infront to the squid display. (not to be confused with the Kraken Exhibit)
1 in the Oddities Wing, infront of the main entrance to the Kraken Exhibit.
1 on the roof of The Hamilton, near the vending machine.
1 in the The Sinclair Deluxe bedroom.
1 in the bottom floor of The Hamilton.
1 in Central Control 1.
1 in SubBay Number 1.
1 in Central Control 2.
Behind the Scenes
Edit
The Control Points were designed by Will Makra.[1]
References
Edit
Community content is available under
CC-BY-SA
unless otherwise noted.