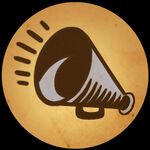 Hi, welcome to the BioShock Wiki! Thanks for your edit to the BioShock Infinite Removed Content page.
Need some help finding your way around? Here are some good places to look:
New to editing?
Questions?
Feel free to ask an administrator or a featured user, or leave a message on my talk page if I can help with anything! Mainframe98 (talk) 21:33, November 4, 2017 (UTC)
Yeah, just no
Edit
Elizabeth never flirted with nor was attracted to Booker. I implore you to not allow your speculation in regards to that pour into the site. H. Roosevelt (talk) 09:54, September 30, 2019 (UTC)
Regarding your recent edits, while a number of them contain useful information related to an article, a large percentage contain trivia and have been undone by other editors. This site has a strict No Trivia policy. When adding information, ask yourself "does this deal with specific, intentional actions regarding the development of the game by the designers?" If the answer is yes, it can go under the Behind the Scenes sections. If no, then it's trivia and it belongs on the Talk Pages. Please keep this in mind and you will be better served in making lasting contributions to the site.

Unownshipper (talk) 04:39, October 22, 2019 (UTC)
Community content is available under
CC-BY-SA
unless otherwise noted.