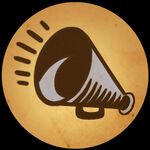 Hi, welcome to the BioShock Wiki! Thanks for your edit to the File:TheThinkerMainConsole.png page.
Need some help finding your way around? Here are some good places to look:
New to editing?
Questions?
Feel free to ask an administrator or a featured user, or leave a message on my talk page if I can help with anything! -- Gardimuer (Talk) 03:54, 2013 January 5
Image Uploads
Edit
Hi, and welcome. I just want to let you know that although its good that you found some images, they're ones that already exist in the wiki. In the future, look up the pages first to see if the wiki needs whatever images you plan to upload. Otherwise, they're going to be considered duplicates, and will be deleted because of it. In the case that you do find a new image that isn't in the wiki (at least available ones that are large and would possibly not feature watermarks), at least mention the source of where you found it by clicking the upper far left part of the image name, and editing that info into the image. Thanks.
EDIT: Sorry, I actually meant the previous images that were taken down, since I swore the last one here was one we had before. Still, always make certain to check first on the pages.  Evans0305 (talk) 23:38, February 2, 2013 (UTC)
Understandable. It is hard to find the latest or even original images that are under fair use, especially when everyone uploads them first. I should know, I started off doing that on the site, and I was always good at finding new or unique images, but most will always be updated or replaced with someone else's higher quality images. Right now, the images of Daisy Fitzroy are what's shown on its article page. May be since Irrational Games is already promoting the game with plenty of ads and screenshots, we'll probably see something about Fitzroy soon, since we seen ones on the Founders and Comstock show up. Until then, just keep an eye out if you find anything new. Evans0305 (talk) 00:01, February 3, 2013 (UTC)
RE: Question
Edit
As of now, we don't know what it is, or even if Comstock established one in Columbia, so until there's a source about it or until the game's release, we can't make an article about it without certain that it won't become speculation. So far, the Fraternal Order of the Raven is anything close to a cult, but its more like Columbia's KKK, and it only worships Lincoln's assassin. For now, we'll have to wait next month to find out. Evans0305 (talk) 05:29, February 6, 2013 (UTC) 
Community content is available under
CC-BY-SA
unless otherwise noted.