For the audio logs made in Rapture, see Audio Diary.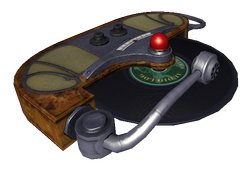 "What's a Voxophone?"
― Booker DeWitt, demonstrating a Voxophone
Voxophones are personal, portable voice recording devices used by the inhabitants of Columbia. In-game, there are a total of 80 Voxophones to collect. Obtaining them all yields the "Eavesdropper" Achievement/Trophy.
Main Game
Edit
Cornelius Slate - Comrades of Necessity - The Hall of Heroes
Booker DeWitt - Apology - Office of Jeremiah Fink
Rosalind Lutece - The Prophet is Dying - The Hand of the Prophet
Zachary Hale Comstock - The Mirror of Sin - The Hand of the Prophet
Unused Voxophones
Edit
Jimmy Jampot - 1) GOOD GENES RANT - The Little Red Bottle
Clash in the CloudsEdit
Main article: Clash in the Clouds
Burial at Sea - Episode 2Edit
Main article: Burial at Sea - Episode 2
Behind the Scenes
Edit
References
Edit
↑ Mauricio Tejerina's profile on coroflot.com
Community content is available under
CC-BY-SA
unless otherwise noted.