"Decided to start ringing in the New Year a bit early, I see."
― Winston Hoffner
Winston Hoffner was a citizen of Rapture who worked at Le Marquis D'Epoque. He passed away before Jack arrived in the city in 1960.
Main article: BioShock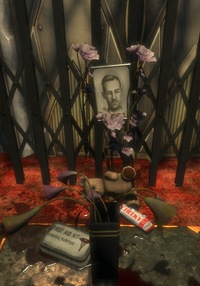 In the Welcome Center's Atrium, Jack encounters a shrine to Hoffner outside a door across from the entrance of the Kashmir Restaurant. The shrine consists of a small portrait, a teddy bear, a Pep Bar, a First Aid Kit, and a vase with flowers. The locked door is that of the very shop he once worked for.
A portrait of Winston Hoffner can also be found next to an empty casket in the Twilight Fields Funeral Homes within the Medical Pavilion, where a female Splicer mourns over the coffin. Two memorial portraits of him are also placed in the reception area of the Eternal Flame Crematorium. One of the portraits has multiple cosmetic "improvements" made to it; this altered portrait is signed by J.S. Steinman in blood on the floor in front of it.
BioShock 2 MultiplayerEdit
Main article: BioShock 2 Multiplayer
The memorial for Winston also appears in the multiplayer version of Medical Pavilion, suggesting that he perished either during or prior to the Civil War. However, it is defaced with the word "SPLICER" written in blood.
Burial at Sea - Episode 1Edit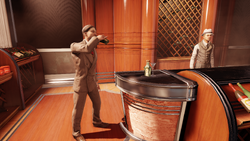 Main article: Burial at Sea - Episode 1
Winston was actually working at the Le Marquis D'Epoque store on High Street on New Year's Eve, 1958. He will greet Booker DeWitt by name and comments on him being back so soon, implying that Booker is a regular costumer.
(vo_shopkeeperWinston_dlc2_scripted_71216.wav)
"Decided to start ringing in the New Year a bit early, I see."
(vo_shopkeeperWinston_dlc2_scripted_71217.wav)
"Ah, Mr DeWitt. Back again. And so soon…"
Community content is available under
CC-BY-SA
unless otherwise noted.